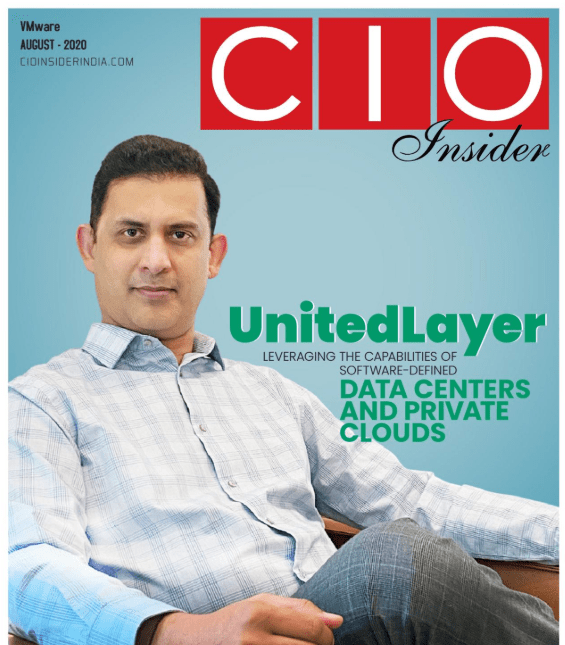 CIO Insider Cover Story: UnitedLayer's CEO, Abhijit Phanse explains and shares his insights on "Leveraging the Capabilities of Software-Defined Data Centers and Private Clouds."
This is CIO Insider's exclusive cover story with Abhijit Phanse, CEO of UnitedLayer. He talks about new trends like the demand of Software-Defined Everything in the cloud, the company's philosophy, growth of the company, its thriving cloud business, and the challenges that lie ahead.
Over the past two decades, UnitedLayer has been providing comprehensive data center infrastructure and managed cloud solutions to various industries like Technology, Media, Telecom, Oil & Gas, and Banking Financial Services and Insurance across the globe.
The journey started with Accelon Capital, a mid-market private equity investment fund created by Abhijit and three professors from Stanford. Later they acquired UnitedLayer, the largest colocation data center provider in San Francisco using this fund with an aim to create high-performance, highly-available (99.999%), secure, agile, scalable, and modern colocation and multicloud solutions of the future.
The conversation starts with company's philosophy which is deep-rooted in the need for having a three cloud strategy i.e. "The laws of the land, physics, and economics dictate that hybrid cloud will continue to the future of enterprise computing," as stated by Pat Gelsinger, CEO of VMware which considers that Software-Defined Everything is the future.
Abhijit further explains UnitedLayer's role in the Software-Defined private cloud evolution by talking about their Software-Defined Multicloud Data Center Platform that converts any legacy data center into a modern (hybrid and multicloud) data center.
During the course of the journey, several innovative solutions like UnityOneCloud were created to manage, monitor, audit, and support end-to-end cloud deployments. UnityOneCloud is a SaaS platform that provides a single pane of glass for seamless management of any cloud environment from bare-metal to serverless configurations in data centers, private clouds, and public clouds.
UnitedLayer utilized its 15 years of experience in the industry and created another organic spin-off known as United Private Cloud using it's G3 IaaS Private Cloud platform, which is a third-generation private cloud solution perfected to deliver enterprise-grade cloud solutions and support modern applications like VMware, Kubernetes, SAP, and Oracle.
Before UnitedLayer, Abhijit Phanse co-founded the company called Scintera (acquired by NYSE: INPHI and NASDAQ: MXIM) that delivered high-performance signal processors in the wireless base station and data center infrastructure space. "Recognizing the industry's path, creating a vision for our company, and building a team to deliver solutions to solve the real-world hybrid cloud challenges for our customers has been my contribution," says the CEO, Abhijit Phanse.
UnitedLayer is a major Colocation, Private Cloud, and Managed Services provider that operates data centers in San Francisco, Los Angeles, and Las Vegas. UnitedLayer puts you on the fast track to growth and helps you realize the full value of your investment in any cloud infrastructure solution. We design, build, and manage Enterprise-Grade Colocation, Private Cloud, and Public Cloud solutions that meet the performance, security, and scalability requirements to serve enterprises' unique business needs.
United Private Cloud is an enterprise-grade Software-Defined Private Cloud company delivering enterprise-grade private clouds across 12 data centers over 5 continents. United Private Cloud's G3 IaaS delivers high-performance, 99.999% availability, locked-down security, and software-defined agility and scalability while delivering greater than 30% cost savings compared to any primary public cloud provider. We are one of the world's experts at building and operating highly available, secure, and scalable private clouds.
UnityOneCloud is a Software-as-a-Service company that provides the most comprehensive enterprise-grade Multicloud Management platform for managing your real hybrid cloud environments. We help manage, monitor, audit, support, and observe all your hybrid cloud assets right from bare-metal to serverless configurations in data centers, private clouds, and public clouds.
For more information on how UnitedLayer can assist your digital transformation, please view the full copy of the discussion here and visit our website, https://www.unitedlayer.com/cio-insider-cover-page/.