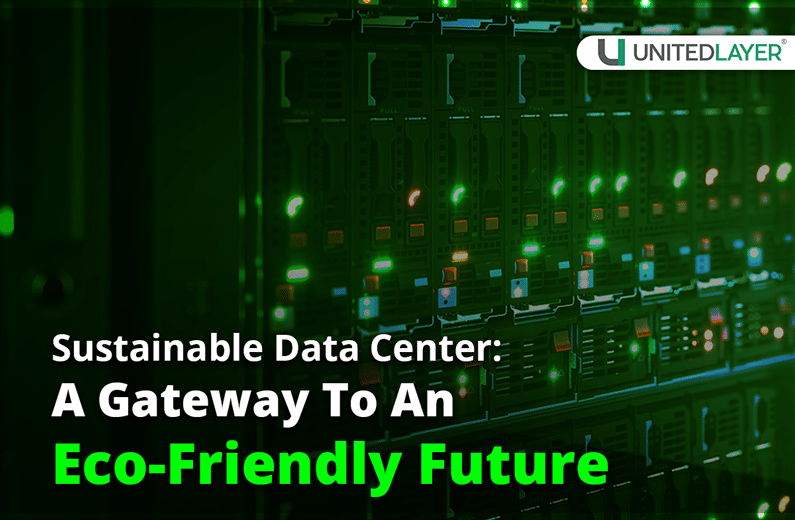 Did you know, as per Nature news, data centers globally contribute around 0.3% to overall carbon emissions? Not only this, they use an estimated 200 terawatt-hours (TWh) per year. Therefore, a sustainable data center is a must to set you on the energy-efficient and green roadmap for the foreseeable future. The data center industry has shown a positive change so far by selecting clear, ambitious targets to reduce environmental damage and ranking among the world's top clean energy consumers. This is just the beginning; the mission is to encourage more and more businesses to choose sustainable data centers which are run by cloud platforms and colocation facilities instead of carbon-heavy on-prem ones. There is much to be gained in this path to a greener digital future as backup power for data centers is still reliant on carbon-intensive generators. The amount of clean energy generated is on the lower end.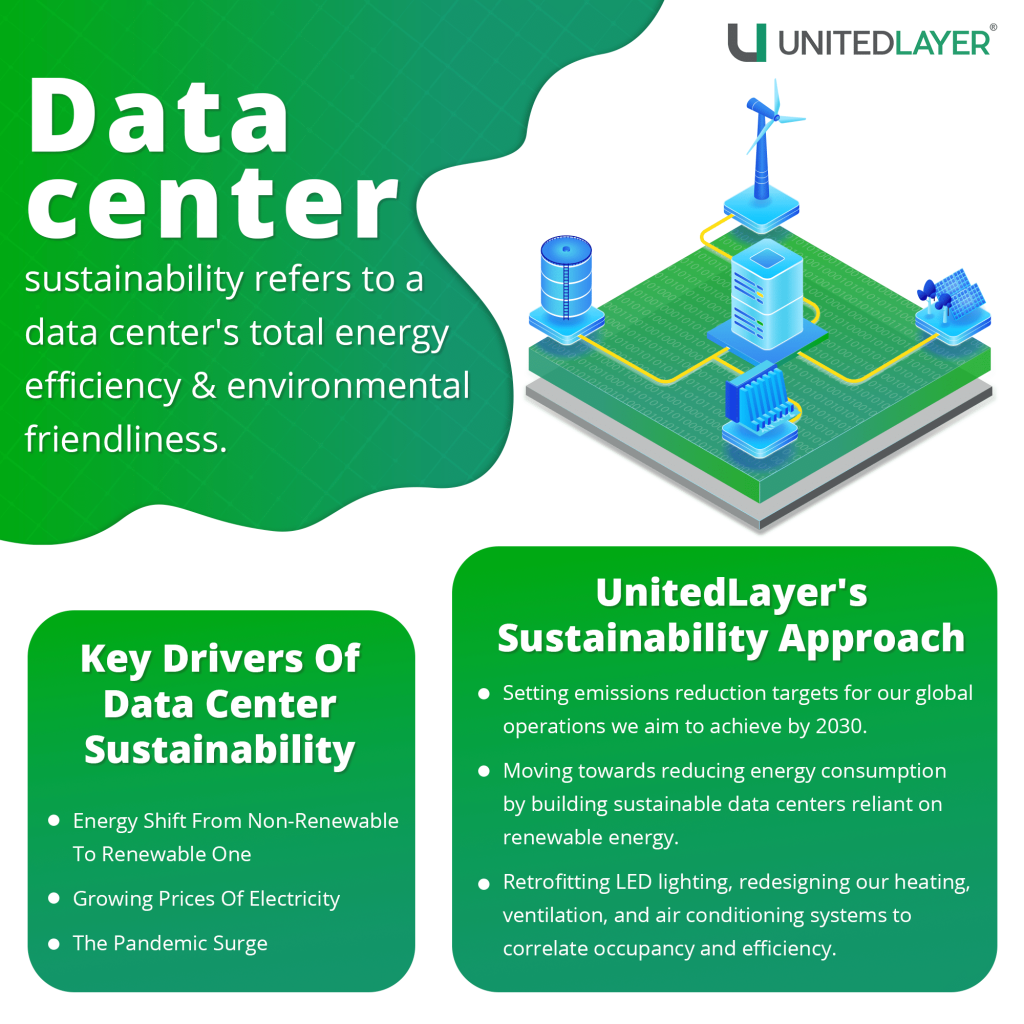 Although we believe that businesses can overcome the roadblocks of technology and time in the future, the silver lining is that planet and profitability are now at par with each other. Sustainable solutions reduce risks and increase profit margins for enterprises paving the way for excellent business practices that benefit the communities in which we operate. Let's look at the key drivers of data center sustainability to understand the current scenario.
Drivers Of Sustainable Data Center

Energy Shift From Non-Renewable To Renewable One:

Due to the current digital transformation, companies have facilitated this shift. The overall aim is

net zero carbon emission,

just like United Layer. We are already walking on this path to achieve this overall aim by 2030. We are LEED-certified (Leadership in Energy and Environmental Design), a globally recognized symbol of sustainability achievement and leadership. As per the International Energy Agency, the world's total renewable-based power capacity will increase 50% between 2019 and 2024.

 

Governmental Regulations Regarding Power Usage Effectiveness:

  There have been several policies that introduce minimum efficiency performance standards and energy consumptions for various appliances and equipment to ensure lower power consumptions. Countries such as China, Japan, the European Union, and the United States are subjected to such long-running regulations.

Therefore, a focus is to preserve the data center's sustainable energy at the design stage itself and then further manage and maintain it going forward.

 

Growing Prices Of Electricity Worldwide:

Gas, coal, and electricity tariffs are at an all-time high in decades.

This rapid increase in taxes and rising European carbon prices have contributed to a high electricity price surge.

So cost saving is one of the prime drivers towards data center operational sustainability. It relies on clean energy that is less expensive and futuristic.

 

The Pandemic Surge:

The pandemic has resulted in a demand for green data centers because of acceleration of cloud data services, increasing dependency on data center automation, driving up of hardware reuse as a significant hindrance, an increase of remarketing of data center hardware, and environmental awareness.

A report from Markets and Markets states that sustainable data center market size is expected to grow from USD 49.2 billion in 2020 to USD 140.3 billion by 2026 at a CAGR rate of 19.1% during this forecast period.
Steps To Build Sustainable Data Centers
A sustainable data center is a data storage, management, and dissemination facility in which the mechanical, lighting, electrical, and computer systems are all designed to be energy efficient and environmentally friendly. These provide a healthy and pleasant working environment for employees. Green facilities also help to strengthen links with the local community. 

Start With Server Virtualization:

Energy consumption and datacenter infrastructure are inextricably linked. You can choose to cut infrastructure costs and improve energy efficiency by using Software-Defined Data Centers (SDDCs). SDDCs make use of virtualized servers that can accommodate numerous users. This strategy enables operators to partition their servers and allocate data storage and processing capacity.




SDDCs can be managed remotely using virtual computers, which reduces transit time to and from the site. The necessity for on-site IT personnel is also eliminated with remote administration. As a result, SDDCs do not spend energy on temperature and illumination. Virtualization reduces the energy footprint of data centers in all of these ways.

 

Keep In Mind Of Artificial Intelligence & Intelligent Monitoring:

Innovative data center service providers utilize artificial intelligence to optimize performance and enhance energy efficiency with the reduction of power consumption. Predictive analytics enabled by AI integrates many processes, offering a comprehensive view of the overall health of all components. Facility managers can foresee hazards and schedule timely repairs using sophisticated monitoring.

With AI,

remote administration

, automated operations, and sustainable energy solutions for data centers are all made easier.

 

Opt For Sustainable Hardware:

Nowadays, finding efficient computer processing hardware, UPS systems, and cooling equipment is not a difficult task.

Some servers are energy-star rated; such servers improve energy efficiency, especially when the IT hardware runs close to maximum utilization. To

reduce idle state power usage, you can turn off unused servers, replace outdated hardware with high-efficiency equipment, and take full advantage of energy-saving capabilities. Consider using high-efficiency power and cooling infrastructure in your sustainable power data center. This includes modular UPSs that run without transformers, at high capacity, high voltage, and close coupled in-row or consist of overhead cooling. 

 

Rely on renewable energy solutions:

Make your transition complete to a cost-saving and high-efficiency sustainable data center running on clean energy.

Today, many energy-sufficient data centers consume much power. Any attempts to run entirely on solar power have proved futile as

the requisite quantity of solar panels takes up too much space. Moreover, large data center operators have benefits that smaller ones don't have, such as including hydro or wind power in their site selection criteria. Consider using fuel cells for on-site generating, especially if methane from landfills is available. This allows you to use non-fossil fuels, reduces transmission losses, and allows you to recuperate the significant heat generated by these devices.
UnitedLayer is already set on a sustainability approach

We have set emissions reduction targets for our global operations and data centers that we aim to achieve by 2030. With such an ambitious aim, we are committed to reducing the impact of our operations on the environment. We are moving towards reducing energy consumption by building highly efficient, sustainable data centers reliant on renewable energy. Our corporate design standards keep an eye on the various green certification criteria to meet best-in-class sustainable building standards. We are also retrofitting LED lighting, redesigning our heating, ventilation, and air conditioning (HVAC) systems to correlate occupancy and efficiency more closely.